Dale McElyea
Revision Spinal Fusion Surgery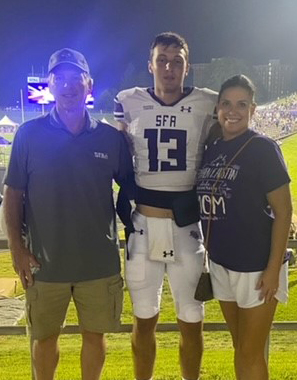 Dale's back had caused him pain for years. He was unable to stand for any length of time or walk any distance without hurting. He would look for a place to sit upon entering any room and used a grocery buggy from the parking lot at the grocery store to help him walk regardless of whether he needed one or not for the items he was purchasing. Our son is an athlete and for years it was difficult to park and walk to his sporting events. Many times, we would have to park and walk a distance to get to the field from the parking lot. Dale would be in great pain. Once he decided to see a doctor, we searched for the best neurosurgeon in our area of East Texas. We first saw a doctor who came highly recommended to us. He basically told Dale that he didn't need surgery and would have to live with the pain. We then saw a second doctor who was highly recommended with several awards for his service and skill. Dale went through a series of shots and procedures to manage the pain. Thousands of dollars and a year later, Dale was continuing to have the same issues. None of the procedures brought him any relief. At this point, the doctor recommended surgery (fusion of lower lumbar). Dale had the surgery, and we were hopeful his back was fixed. However, as months went on and he was supposed to be healing, he continued to have pain. He seemed to regress rather than progress. He could not stand up straight and continued to be in pain when standing or walking. He would return to the doctor each visit for check-ups and tell the doctor. The doctor would tell him he just needed to strengthen his core and that it would take time. Dale asked for physical therapy. He worked out every day. He had multiple CAT scans, X-rays, and MRIs. Every time the doctor told him that everything looked great. Two years later and thousands and thousands of dollars spent, Dale was nowhere closer to having a healed back. We were frustrated, disappointed, and wondering if he would have to live with his pain for the rest of his life.
Meeting Spine Surgeon Dr. Jason Taub
We had friends recommending famous doctors from all over the nation to us. We contacted multiple doctors in the DFW area. Not one would even schedule a visit to see us because Dale had already had surgery previously with another doctor. We were beginning to feel hopeless. One day I had lunch with a friend I hadn't seen in a long time. She told me about her experience with Dr. Taub and gave me his card. When we called and spoke with Deana, she was absolutely wonderful and so helpful. We scheduled a visit and met with Dr. Taub and his team. Dr. Taub gave us hope that Dale could finally have his back fixed and have the quality of life he deserves.
Revision Spinal Fusion Surgery
After examining Dale, Dr. Taub determined he had developed flat-back syndrome from his previous surgery. He determined surgery would be necessary to remove the old hardware and put new hardware in that would allow the natural curvature of his spine. We scheduled the surgery at Methodist Hospital for Surgery. Dr. Taub's team was so helpful and accommodating in working with us. The procedure lasted almost 11 hours. We had an amazing experience at the Methodist Hospital for Surgery.
A Life Changing Outcome
Dale's surgery was in May of 2022. By September, he was able to walk from the parking lot to the stadium (approximately one mile) without pain to watch his son play football; something he was not able to do for many years. He is now able to stand and walk pain free. We are so thankful for Dr. Taub and his team for giving Dale his life back. He can enjoy things now that before he wouldn't have been able to do because he could not stand for any length of time or walk for any distance without being in great pain.